A signature lace like design by Julleen for My Bridal Jewellery in pearls and crystals, is hand woven and boasts a lovely drop down centre which literally lights up the skin around the neck line  and then naturally illuminates the face. Like a subtle spot light on the face.  Queen Elizabeth I wore pearls all the time as she demanded all attention be placed on her. Pearls just glow with light and make the wearer feel like a princess.
With pretty 5mm rainbow crystals which sparkle like the crown jewels and set with genuine freshwater white oval pearls and sterling silver, this is the perfect design for any wedding dress. The simply amazing clear oval facetted rock crystal earrings on a double drop sterling silver chain carry beautiful 10mm white pearls and give the finishing touch to this stunning set. Wear real pearl jewellery on your wedding day we promise you will feel like royalty.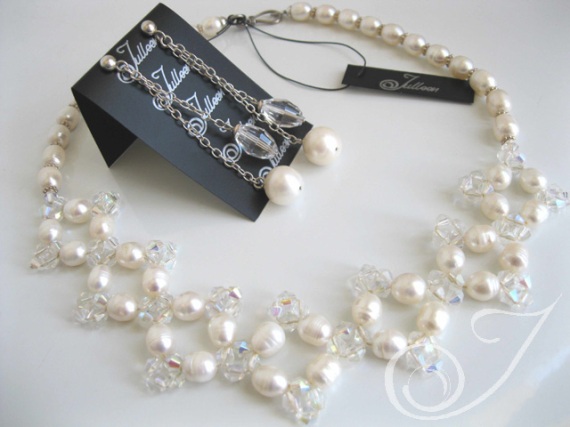 Don't want the whole set? You can buy pieces individually. Click on:
Brigitte Necklace or contact us to enquire about the earrings.