Crazy gorgeous lustre, in a blue – purple mabe pearl pendant. Triple bezel set on chunky sterling and gold highlights in vermeil. Beautifully stranded onto various shades of blue, silver and black pearls, with baby gold pearls and sterling silver spacers and clasp. A magnificent designer set for a life time of wear. Nobody does it better than Julleen, for the  mabe on pearl necklace, we guarantee it.  Cute matching earrings are a match made in heaven. A must have pearl jewellery designer set by My Bridal Jewellery.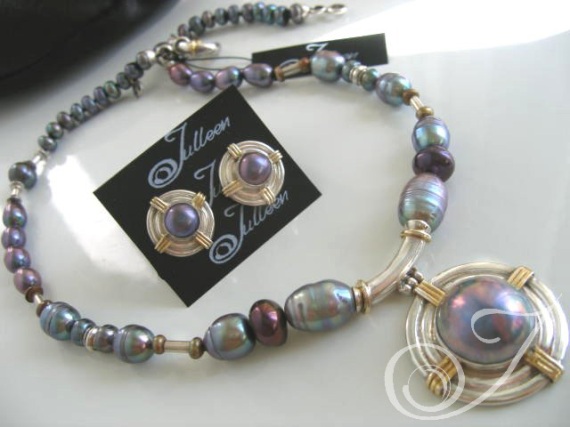 Want to buy pieces individually? Click on Blue Moon Mabe Pearl Necklace or contact us and quote product code E210.01 for the earrings.
Here is the set on the beautiful Winsome.  As you can see here again the pearl jewellery illuminates the face. For a beautiful woman this is just about all the natural lighting a girl needs. What better excuse do we need for putting on our favourite pearl jewellery.