Perfection in a creamy natural pink pearl set.  Stranded with vertical pearls that hang gracefully down the centre with citrine beads and maroon and gold pearls.  This set gives warmth and can easily be worn with a maroon theme for winter or any season. Can be used well with creams and pinks or golds.
Lovely creamy peach pearl twist, drop earrings, with natural vertical  pink pearls, are unique and made only by Julleen for My Bridal Jewellery,  in sterling silver only and can can be worn easily on their own with any outfit. Wear casually or to dress up any outfit. Great appeal, this set will be loved for many years to come. A subtle pearl jewellery set that will look simply amazing on photos of the bridal party and sensational on the bridesmaids themselves! (of course)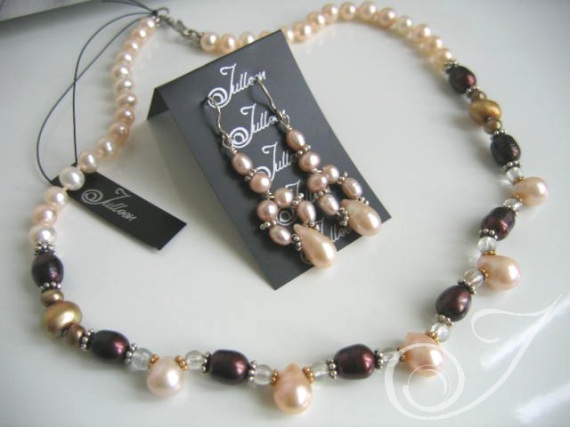 Don't want the whole set? You can buy pieces individually. Click on:
Bridget Necklace or Fairy Floss Cluster Earrings.