For a red theme wedding, trust our judgement here, there is nothing wrong with adding some of that regal colour to a white necklace in fact we think it's genius! In many countries it's actually traditional to add red to a wedding day for supreme luck! These truly beautiful little 4mm finely facetted, rich cranberry red, natural garnets, are spectacular in this signature bridal drop lace design by Julleen for My Bridal Jewellery.
Heavenly white lustrous oval pearls adorn the necklace and brighten up not only the face of the bride but the room when she enters. An affordable piece of timeless luxury that can be worn on endless celebrations after the wedding day. The sweet matching earrings are just that bit unique and can be worn any time after your big day. All set in genuine sterling silver this piece is bound to remain a favourite for many years.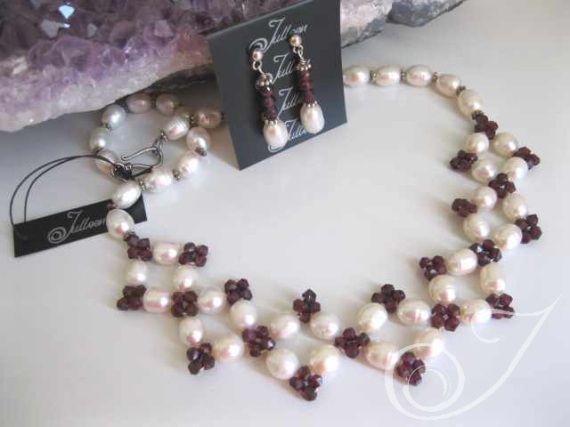 Don't want the whole set? You can buy the pieces of this set individually. Click on:
Cranberry Lace Pearl Necklace or Tammy Bridal Garnets Drop Earrings.
Seen here with brighter red carnelians we made these especially for the bride who wanted a brighter red on her day. Here's proof how the necklace illuminates the face and the lovely porcelain skin tones of the bride. This bride found that an all white pearl necklace did absolutely nothing for her skin tones and chose these carnelian stones to boost her colouring. We think it was spot on and she looks stunning.
How about you?