Hot Pink Approx 18ct Triangle Cut, Pink Topaz, double set pendant with 15 mm Pink Mabe. Strung on 9-10mm Natural Pink Lavender Pearls with Rubies with 11mm Hand Made Ball Clasp. All lovely sterling silver. Unique 13mm Pink Earring with Rubies. All Sterling Silver Hook and Spacer with small tubes spacers in 24ct gold electroplating.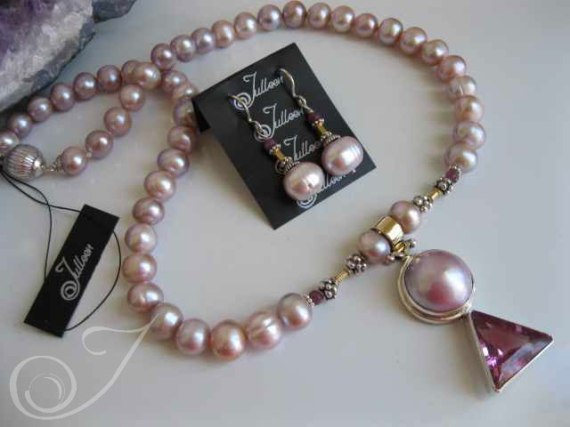 Don't want the whole set? You can buy pieces individually. Click on:
Ms Monroe Necklace or contact us for more information about the earrings.
The magic of Pink. oh my! A gorgeous combination of stunning hot pink topaz, pink pearl mabe with a strand of oh so yummy natural pink lavender pearls, and let's not forget those rubies! What femininity and sexy glamour! The supreme scene stealer Marilyn wore hot pink, in Gentlemen Prefer Blondes, who could possibly forget it and that very hot pink evening dress. That's why we just had to dedicate this to Ms Monroe.