This magical necklace has a sweet lavender silver foil Murano Disk Pendant set on a toggle clasp every gemstone known to man is in this gemstone feast.
Of the many natural gemstones we use, only but a few, are crystals and chips, most all are genuine gemstones in facetted, round, ovals, disks, tubes or other shaped stones in peridot, aquamarine, amber,carnelian, facetted French jet, onyx, amethyst, apatite, quartz, topaz, rose and cherry quartz, rock crystals, and copious amounts of freshwater natural and cultured pearls.  Aqua pearls, pink pearls, black pearls, gold pearls, white pearls, peach pearls, blue pearls, bronze pearls, gold pearls, mauve pearls, purple pearls, peacock green pearls,cream pearls.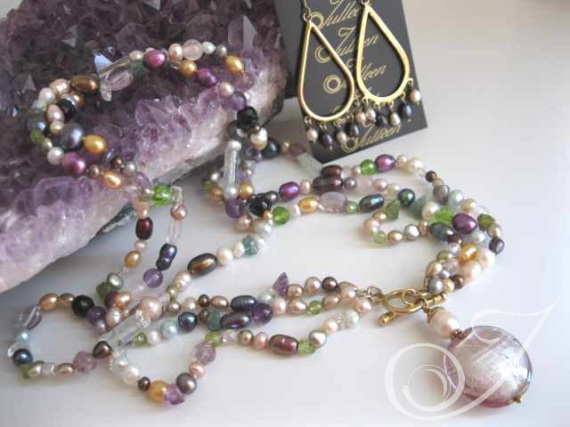 Don't want the whole set? You can buy pieces individually. Click on:
Precious Necklace or Gypsy Rose Drop Earrings.
Easily one of our very favourite designs, it can be worn then with just about any wedding theme colour that you can imagine. As you can see the Kelly Cocktail Bracelet matches superbly with this, as seen on our lovely model Courteney. We've teamed the chandelier gold earrings with pink pearls  and black pearls with this set, but Courteney wears more simple ones here. As with most of our designs many earrings can be mixed and matched.