Regal Crush is all class. This is a necklace set for the fuller bodied woman with a lovely face as it radiates light to the complexion. Imagine the attention this magnificent pearl necklace set will make when you enter the room. This is absolute  beauty personified in a pearl necklace and looks exceptional on the palest of pale skin and sits just as well on olive skin.
This set is just stunning in simplicity, yet announces to the world that you mean business. Our signature peacock green pearls with delicious 12mm white button pearls and highlighted with vermeil spacers are just so yummy. The Earrings are a knock out on their own and are ever so elegant.  Regal Crush could be your favourite set for a lifetime of wear.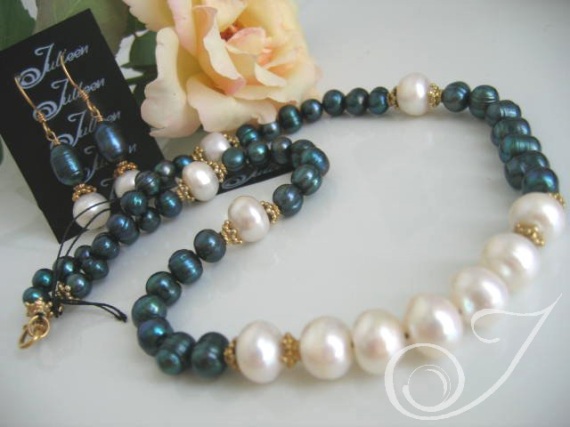 Don't want the whole set? You can buy pieces individually. Click on:
Louisa Necklace or Alison Cluster Earrings.