Swing Hoop Earring in Blue Pearls  and Cuban Blue, Facetted Agates. All beautifully hand made with quality sterling silver, including Hook. Perfect for the blue themed wedding and any aqua toned outfit for evening.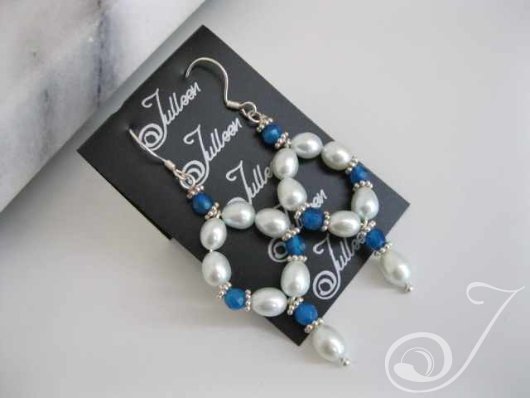 See a quick video here with these and more glam earrings by Julleen. 
Drop Pearl Earrings
When a sedate pearl earring is not what's required..but something not over the top..yet makes a statement and you love blue gemstones and pearls..then this one is most definitely the answer. The silky texture of sheer good quality baby oval aqua blue pearls and simply striking blue agates, this hoop earring gives the wearer that special touch of glamour. Pearls and leather look great together. Seen here on Tessa with her black leather jacket ..you can see what we mean. A glam look that will not date? Most definitely!
A suggestion when looking for a particular coloured earring do a search using google images.