Virginia Bow, Wedding Earring with White Pearls on Sterling Silver in a Hand Crafted Design. 50mm Total Drop.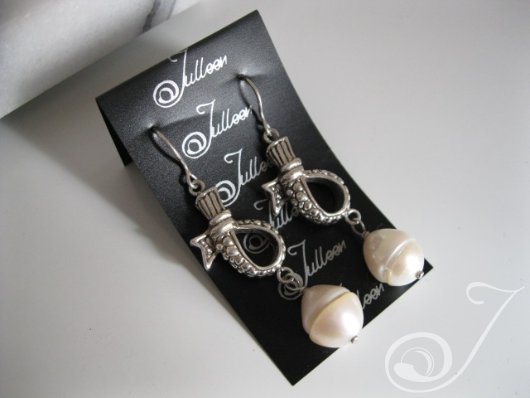 Here's a video of some old movie stars including Marilyn..and our own models… wearing pearls. 
Models and celebs wearing pearls
Marilyn Monroe wore pearl earrings very similar to this, for photo shoots which kept her at the top of her game. When the beautiful icon was asked what she wore to bed she said Channel No.5 but when it came to looking her most divine and super glamorous our Ms Monroe wore pearls. Pictured here with similar earrings and a strand of lovely white pearls draped around a necklace scarf, Marilyn caused a sensation..what a great idea! intertwining pearls with fabrics. Now of course we see similar things with strands of leather or thick cottons twisted with strands of pearls for a chunkier more substantial look. We love this picture however, because in one of her sexiest photos ever… Marilyn wears long drop pearl earrings… just like our hand made earrings called Virginia Bow. If you love this..do write your comments below.