Oh Carol!
Silky Smooth Chunky White Potato Pearls 4mm Facetted Tourmaline Beads Sterling Silver Spacers 11 link  Chains with Pearled Fob Clasp – 31″.
Only lovely tourmalines come in just about any colour on earth. From gorgeous rubalite red and pink watermelon to lime and emerald green to clears and even amber shades. Always when pearls are paired with tourmaline, a love affair is obvious, with these two heaven sent gems.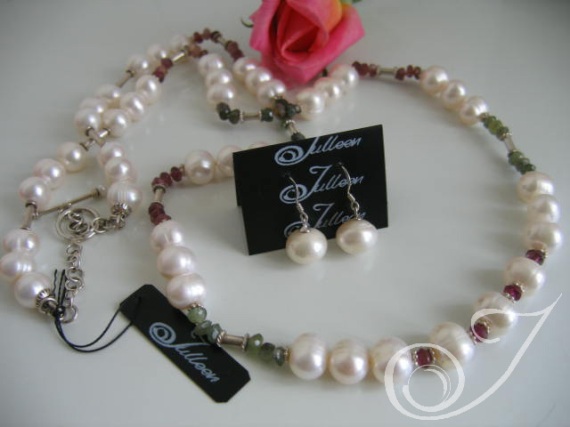 Don't want the whole set? You can buy pieces individually. Click on:
Carol Tourmaline Necklace or contact us and quote product code E004 for the earrings.
Set with rare 11 – 12mm high lustre white pearls with front tourmaline highlighted with sterling silver spacers, this set is wonderful on any age group. We really like the idea of creating a knot at the front for a sexy and lavish pearl cluster look.  We show here on the mature woman that pearls are really for any age group and can make the skin as said before, appear illuminated and bright.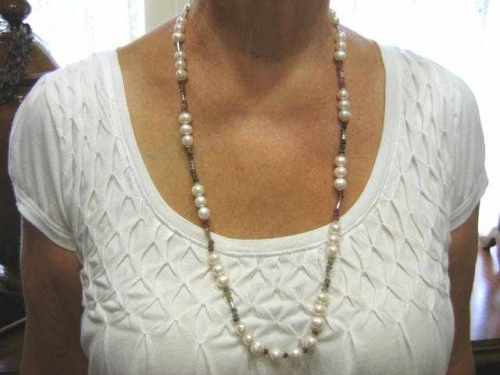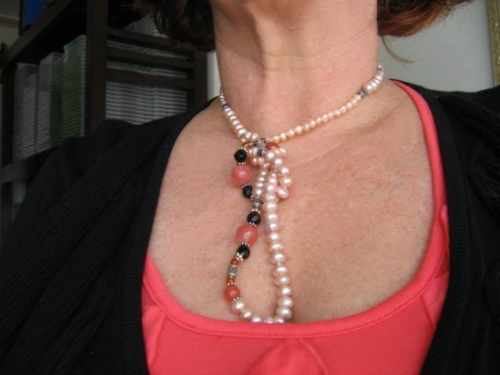 Here's a sample of look to knot the necklace and make it look a little more funky. A well made long pearl necklace can be doubled,worn three times around the wrist as a bracelet or can be twisted into a knot, just once, to show off a nice neckline and to add to the versitility.