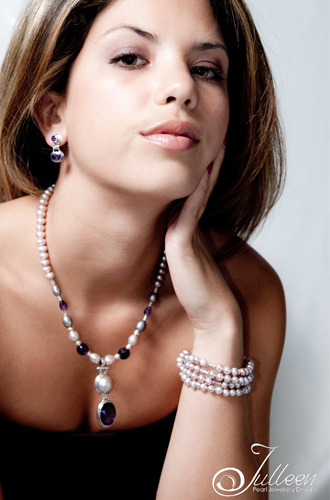 Pearl Bracelet Galleries

Pearl bracelets are a striking addition to any collection.
Selecting the bracelet is as important as choosing the rest of your jewellery. A beautiful pearl bracelet will balance the earrings and necklace to give a complete look.
Pearl bracelets, like the pearls they're made from come in many colours, shapes and sizes. From rare black pearls to pure white, there's a choice to capture the mood of any occasion. Combine them with gemstones and you have an exotic blend that's sure to get noticed.
Popular colours are cream, yellow, white and pink. Maybe because they often cost less than the darker varieties. But keep in mind that no colour is "better" than any other. When choosing pearl bracelets consider your personal tastes and match them to your wardrobe and skin.
To find quality look at the luster of the pearls. That's a property of the reflectiveness on the outermost layer of the pearl. Generally, a high luster indicates a higher quality of pearl.
The thickness of nacre (outer coating) also bears directly on the quality. Pearls with a thin coating are more prone to chipping, aren't as durable, and often appear dull.
Good pearls ought to be smooth without bumps, ridges, or pitting. The ones you want will have a smooth surface that allows the light to reflect easily and shows off the color and luster well. Definitely avoid any pearls with blemishes on the surface.
Good workmanship is essential for adding value to pearl bracelets. Pearls drilled off center would hang awkwardly in the setting and surely disappoint. They also need to be strung with the "right" amount of tension. Finally, make sure that the other components are of the same high quality as you expect from the pearls themselves.
To see pearl bracelets made to the highest standard click on the images below and peruse the bracelet galleries.